Dear Apple Customers:

Apple began with the simple idea: That the power of computing should be available and accessible to everyone. With that idea, we helped launch the personal computer. And as we begin our 20th year, this idea of individual empowerment continues to be the driving force behind Apple Computer.

As many of the 22 million users of Macintosh systems know, the press has been reporting that these are challenging times for Apple. We would, therefore, like to communicate directly with you and to reassure you that the top priority of Apple's Board and management team is to take action to prepare Apple for its next chapter of growth and profitability.

The major restructuring we are currently implementing is focused on how best to allocate our resources to ensure that we continue to meet our customers' needs with solutions they require at price points they can afford. Moreover, the actions we are taking to put our fiscal house in order will also have vast implications on how we do business.

We've taken measures to build on our market leadership in the home, education and key commercial segments. And we are committed to building and preserving our most valued assets: the Apple brand, customer loyalty and Apple employees. We are also moving forward aggressively with new technologies and products that will play to Apple's strengths in multimedia and the Internet. And with the strong support of our third-party developers, we now have over 1,400 Macintosh native Power PC applications, including over 800 that are "Mac- first" or "Mac-only."

Looking forward, Apple is positioning itself to take advantage of information industry trends with the delivery of Copland, the code name of our next-generation operating system, and products based on the PowerPC microprocessor, the Newton platform and Pippin technology - the television-based, affordable multimedia platform and Internet browser.

Apple's continued growth depends on constant and direct communication with you. So, I encourage you to watch spaces like this for important messages from Apple about our vision and future strategies.

Rest assured: Apple's mission remains as vibrant today as it was in 1976. It is one that cannot be realized in a year, a decade or even a lifetime. I believe it is one of the most enduring missions of any business in the world.

Sincerely,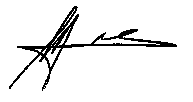 Michael Spindler
President and CEO
On behalf of Apple employees worldwide

e-mail address: AppleForever@apple.com
copyright 1996 Apple Computer, Inc. All rights reserved. Apple, the Apple logo, Macintosh and Newton are registered trademarks of Apple Computer, Inc. Mac and Pippin are trademarks of Apple Computer, Inc. PowerPC is a trademark of International Business Machines Corporation, used under license therefrom.