FEBRUARY 5, 1996 / VOLUME 10 NUMBER 5
Amelio at Apple helm: Spindler pulls rip cord
By Mark Hall (mark_hall@macweek.com)
and Jon Swartz (jon_swartz@macweek.com)
The other shoe in Apple's restructuring plan has finally dropped. CEO Michael Spindler and Chairman A. C. Mike Markkula are out; board member Gilbert F. Amelio will step in.
Last week in a hastily held meeting in New York, sources said, Apple's board of directors elected Amelio chairman and CEO of the company, ending speculation about the tenuous grip of Apple's two top executives.
Amelio resigned his position as chairman, CEO and president of National Semiconductor Inc. of Santa Clara, Calif., where he is widely credited with taking the company from the brink of economic ruin to profitability.
"Gil is ideally suited for Apple," said Donald Beadle, National's former vice president of worldwide marketing. "He's quite a visionary, yet he's process- and metric-driven."
---
Two Weeks of turmoil: Apple's wild stock ride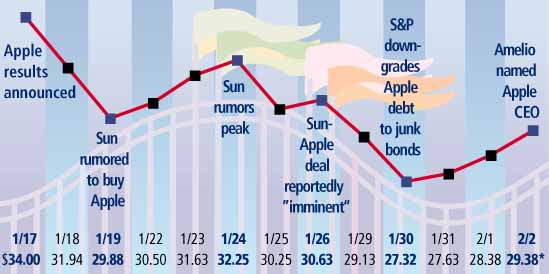 "Having any kind of decisive new management is welcome news," said Daniel Kunstler, an analyst at J.P. Morgan Securities Inc. of San Francisco. "Apple is pretty close to a turnaround project."
Amelio, 52, took over at National in 1992. From 1988 to 1991, he served as president of Rockwell Communications System, a subsidiary of Rockwell International Corp. An Apple board member since 1994, he also is a director of National Semiconductor, Pacific Telesis Group, the Electronics Industry Association and the Semiconductor Association.
After 15 years, Mike "Diesel" Spindler's ride at Apple ran out of gas. Handpicked by Markkula to replace ousted CEO John Sculley in 1993, he engineered a successful transition to Power Macs and oversaw the growth of Apple from a $6 billion business to an $11 billion company.
But in other areas, Apple slipped under Spindler's direction. The company consistently misforecast demand for its products, its market share eroded, its efforts to sign up major clone makers fizzled and it was caught in the cross-fire of a price war that decimated its profits.
"You don't see too many executives getting skewered like this," said a former Apple executive who requested anonymity. "This is awful. Spindler is ruined. He can't recover his reputation."
According to Tim Bajarin, president of Creative Strategies Inc. in San Jose, Calif., the board decided to drop Spindler and demote Markkula "when calls for Spindler's head got shrill and Sun [Microsystems Inc.]'s bid for the company came in too low." He also said field reports that Mac sales were hurting from the perceived management turmoil prompted the board to act.
Recent revisions in Apple's severance package for executives should soften Spindler's landing. Under the plan, he qualifies for a golden parachute worth $2.8 million, or about three times his $900,000 annual salary and bonus.
Markkula's decision to step down as chairman was equally significant. The Apple co-founder, who will remain as vice chairman, has been under fire for the company's poor performance, sources said.
Like Spindler, Amelio comes with his detractors. A former National executive said, "When [Amelio] came to National he set down rules and imposed them without emotion. He said, 'If you can't do the job to the metrics, I'll find someone else.' "
The source added that while the rest of the semiconductor industry was growing 25 percent to 40 percent a year, National went from $1.7 billion to $2.3 billion during Amelio's four-year tenure.
"He didn't invest in new equipment or advanced process technology," the source said.
Amelio's appointment may have put a damper to ongoing merger talks between Sun and Apple. One Apple executive said he thought the appointment of Amelio signaled that Apple would remain an independent company.
Meanwhile, the news of Apple's executive shake-up put the brakes on its stock slide. In late afternoon trading Friday, Apple's stock was up $1, to $29.38 per share. The company's stock declined in recent weeks and was battered further by Standard & Poor's Corp.'s decision last week to downgrade Apple's debt to junk-bond status. Further, Dataquest Inc. released a study showing that Apple's worldwide market share slipped, from 8.2 percent, to 7.8 percent in 1995.
With that gloomy backdrop, Spindler; David Nagel, senior vice president of R&D; and Fred Forsyth, vice president of worldwide operations; attempted in a series of internal memos to explain to employees how management intended to bring the company back into the black.
In a prescient Jan. 29 memo to employees, Spindler shouldered the blame. "I want to reiterate the sense of accountability I feel personally for the situation we find ourselves in," he wrote.
A foreshadowing of dramatic changes ahead was Forsyth's Jan. 19 message. He announced a freeze on all hiring in his division; pointed to an $80 million inventory write-off; and admitted, "We do not see the difficulties we face as merely a business cycle, but rather as a fundamental set of issues."
Apple will close a Pacific Operations office in Cupertino, Calif., according to Forsyth, while "transferring some resources from Pacific Center to the Americas." Most capital spending will be put on hold, he wrote.
"Managing inventory down is paramount," Forsyth's memo said. The company's inventory ballooned to nearly $1 billion in the past quarter. He also said Apple will continue to expand its outsourcing of service, board and systems manufacturing.
In a Jan. 23 memo, Nagel echoed Forsyth's call for a hiring freeze, but contrary to what was reported elsewhere, the stall in hiring for R&D is not absolute. "I will approve [hiring] requisitions on a case-by-case basis," Nagel wrote.
---
HOME | NEWS | REVIEWS | FEATURES | OPINION | ARTS & LEISURE | NEWTON | INFO | RESOURCES
---
Copyright © 1996 Ziff-Davis Publishing Company. All rights reserved. Reproduction in whole or in part in any form or medium without express written permission of Ziff-Davis Publishing Company is prohibited. MacWEEK and the MacWEEK logo are trademarks of Ziff-Davis Publishing Company.
Maintained by Mark Simmons, msimmons@zmac.ziff.com